The Films of Will H. Bradley
H. Films and Filmwork by Will H. Bradley (Arranged chronologically by release date.)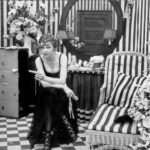 Publishing magnate William Randolph Hearst, who bought and ran Cosmopolitan, Harper's Bazaar and Good Housekeeping, began investing in motion pictures in 1914. He distributed news through his newsreel services, financed motion pictures, and released them through his Hearst International Film and Pathé International services.
Will Bradley served as 'supervising art director' for Hearst publications and motion pictures from 1914 through March 1917. After which, he wrote, produced and directed his own independent films.
In 1914 Theodore and Leopold Wharton established their own production company, The Whartons, Incorporated in Ithaca, New York. They were the first directors to establish their own studios as independent producers. Hearst's first investments motion pictures were for their adventure serials The Perils of Pauline (1914) and The Exploits of Elaine (1915).
In Oct 1916, the success of these two serials spurred Hearst to ask Bradley to art direct his films. By then, the first 10 episodes of Beatrice Fairfax had been filmed.
"Bradley observed the work on the final episodes of Beatrice Fairfax and took responsibility for the next serial, titled 'Patria,' the first episode of which was released on November 20, 1916."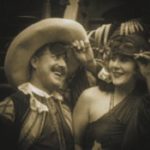 Patria (1917) was an action serial staring Irene Castle, filmed the Wharton brothers principally in Ithaca and Buffalo, New York. After helming ten episodes of Patria, Bradley left the production in March 1917. Bradley had been working in an assistant producer/director capacity on the propaganda-laden serial, and as he stated himself, it was "too much like a full-time job."
Hearst wanted to keep him around, and tasked him to manage publicity for his films and the typographical layouts of his publications, which he did until his retirement in 1930.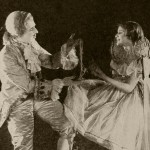 But Bradley was hooked with the excitement of filmmaking, or as the media then termed it — 'taking' moving pictures. He formed a production company with Century Company publisher William Morgan Shuster called Dramafilms (also known as Will Bradley Productions), and screened as many photoplays as he could. He began writing scenarios and most probably looking for backers within his theatre connections. In 1918, he hired Broadway actors Marion Harding and H. Dudley Hawley and took them on location scouting trips in the Southeast United States. Although local news outlets reported his visits, Bradley was quiet about divulging too many details, using codenames 'Eye of Rau' and 'As Ye Sow'  for the films. He made two pictures during 1918, filming whenever he and his cast were available.
Bradley and Shuster arranged for independent powerhouse Arrow Pictures to distribute and market their films. Arrow Film Corporation was formed in 1915 by W.E. Shallenberger "as a production unit, but soon switched to brokering other producer's productions. By the early 1920s it was one of the largest independent distributors around…" In 1924, its vice-president, W. Ray Johnston, formed Rayart Productions, producing his own low-budget films while distributing outside product. Arrow went into receivership in 1926.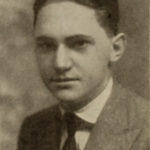 Will H. Bradley's film credits have, over the years, become confused with those of Willard King Bradley. Author and screenwriter Willard King Bradley was active in the film industry at the same time as artist Will H. Bradley. Both men went by — and were sometimes credited as — "Will Bradley" and "William Bradley."
Adding to the confusion, in 1921 Willard King Bradley maintained an office in the same building as Arrow Film Corporation, Will H. Bradley's film distributor!
H 1

Art director. Beatrice Fairfax (15-episode serial, Wharton Incorporated, released by International Film Service / Pathé Exchange, Aug 1916), starring Grace Darling and Harry Fox.
H 2

Art director, assistant director. Patria: The Great Romance of Preparedness (15 episode serial, Wharton Incorporated, released by International Film Service / Pathé Exchange, 1917), starring Irene Castle, Warner Oland and Wallace Beery.
H 3

Writer, director, producer. Bitter Fruit (a.k.a. The Black Lagoon, pirate adventure, Dramafilms, released by Arrow Film Corporation, Oct 1920), starring Jane Gail, Ruth Pecheur, John Charles, Wallace Ray, and Buck Connors.
H 4

Writer, director, producer. The Man Who Trifled (a.k.a. As Ye Sow, romantic comedy, Dramafilms, released by Arrow Film Corporation, Mar 1921), starring Marian Harding, H. Dudley Hawley, and an 'all-star cast.'
H 5

Writer, director, producer. Moongold: A Pierrot Pantomime (a.k.a. Lune d'Amour, fantasy, Dramafilms, released by F.B. Warren Corporation, May 1921), starring Lois Bartlett, H. Dudley Hawley and Syn de Conde.
H 6

Writer, director, producer. The Tame Cat (a.k.a. Eye of Rau, Dramafilms, released by Arrow Film Corporation, Jun 1921), starring Marion Harding, H. Dudley Hawley and Rea Irvin.
Ref: The Photo Playwright, vol 1, no 5 (Aug 1912), pg 18; Moving Picture World, vol 13, no 6 (10 Aug 1912), pg 522; Motion Picture Magazine, vol 13, no 3 (Apr 1917), pg 10; "Here to make pictures: Mr Bradley and his leading players are in town," Charleston News and Courier (Charleston, SC), Wed, 6 Mar 1918, pg 2; Why Santa Cruz has been selected as the location for the studio and production activities of Wharton Film Classics, Inc., Santa Cruz: Wharton, 1928; Bambace, pg xxi; Koch, pp 161-163; website – imdb.com; website – silentera.com.
Citation: Lindsay, Martin S. The Films of Will H. Bradley. Website: WillBradley.com. Accessed 05 Dec 2023, <https://willbradley.com/work/film/>. Bibliography. References.