Patria
H. Films and Filmwork by Will H. Bradley
"From the standpoint of the box office — and, indeed from many others — International's Patria serial by Louis Joseph Vance, starring Mrs. Vernon Castle, is probably the best feature of that kind ever produced."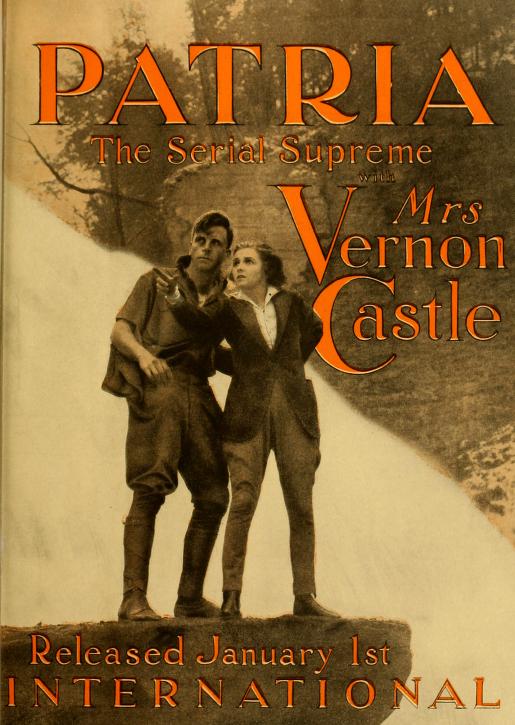 Supervising art director, assistant director, Patria: The Great Romance of Preparedness, 1917 serial film.
Will H. Bradley served as assistant director and supervising art director under Archelaus D. Chadwick. Munitions heiress Patria Channing (Irene Castle, conservatively billed as 'Mrs Vernon Castle') joins Secret Service agent Donald Parr (Milton Sills) in his fight against anti-American machinations of spies from Japan and Mexico, led by Baron Huroki/Manuel Morales (Warner Oland in his first Asian-villain role). Years later, Oland would regularly portray the popular detective Charlie Chan in film.
Filmed in Ithaca, New York. Hearst financed this propaganda-laden serial to point out that Mexico and Japan might attack the U.S. during World War I.
Objections from Woodrow Wilson to the anti-Japanese content caused the Whartons to replace Japanese character names with Mexican ones mid-serial, so Warner Oland's character, originally called Baron Huroki, became Manuel Morales. New scenes were shot to show Mexican mercenaries preparing for battle, as well as additional material featuring Wallace Beery as Pancho Villa.
Unfortunately, Chadwick and Bradley's Japanese sets and costumes remained, later causing some audience confusion.
A young Rudolph Valentino can be glimpsed in a group scene in a dance hall, filmed in New York City at a club where he was briefly employed.
H2

Patria, 15-episode serial (Wharton Incorporated, released 14 Jan 1917). Produced and directed by Theodore and Leopold Wharton. Cinematography by Levi Bacon (episodes 3, 5, 10 and 15), John K. Holbrook, Ray June, William Plyes and Lew Tree. Art direction by E. Douglas Bingham and Archelaus D. Chadwick. Assistant directors James Gordon, Robin H. Townley and Will H. Bradley (as William Bradley). Distributed by International Film Service / Pathé Exchange (William Randolph Hearst's newsreel distribution companies).

Cast: Irene Castle, Milton Sills, Warner Oland, George Majoroni, Mike Rale, Dorothy Greene, Wallace Beery, Marie Walcamp, Jack Holt, Rudolph Valentino.

Of the original fifteen episodes, numbers 1, 2, 3, 4 and 10 survive.

Episode 1: Last of the Fighting Channings. The night before munitions heiress Patria Channing is set to claim her inheritance, she is summoned to New York by her guardian. On her way to New York, she is attacked by men under the hire of Baron Huroki, leader of a gang of Japanese secret agents, but finds a valuable ally in U.S. Secret Service agent Donald Parr.

Episode 2: Treasure. After her guardian is murdered, Patria finds a note telling her of a secret vault under the house, containing 100 million dollars. Baron Huroki and his men sack the estate in search of the money and are willing to burn the place down if necessary to get it.

Episode 3: Winged Millions. Donald searches for the treasure box, stolen by Huroki's men, but Patria follows him and unwittingly stumbles into a trap.

Episode 4: Double Crossed. Huroki schemes to replace Patria with a lookalike dancer named Elaine, whose jealous manager has other plans.

Episode 5: The Island God Forgot. Donald overhears a conversation about an island of Japanese spies and munitions and plans an attack on it, just as Patria washes up on the same island after she is thrown off a ship by the spies.

Episode 6: Alias Nemesis. Elaine, still posing as Patria, announces her engagement to Juan De Lima at a party, but when she goes back to her room, she finds the real Patria there, who forces her to change places again. After this, Elaine's vengeful manager sneaks in and shoots Elaine. When Huroki arrives, Patria poses as Elaine and tells him that the corpse is the real Patria.

Episode 7: Red Dawn. Patria, still posing as one of Huroki's spies, foils a plan to get her fortune, however, when De Lima insists on an immediate marriage to Patria, she and Donald must cook up a plan to get her out.

Episode 8: Red Night. Huroki attempts to ferment a strike at the Channing plant, but is foiled when Patria immediately concedes to the workers' demands, on the condition that they all be given military training.

Episode 9: Cat's Paw and Scapegoat. Huroki attempts to destroy Patria's loyalty to Donald by setting him up to be discovered with another woman.

Episode 10: War in the Dooryard. Baron Huroki's army stages an all-out attack on New York. Donald assists Patria's factory workers, now trained as soldiers, in opposing them.

Episode 11: Sunset Falls. Patria and Donald leave New York for the Mexican border so that Patria can check on her ranch. However, as soon as they arrive, the ranch is attacked by Huroki, who has also migrated south.

Episode 12: Which Passeth All Understanding. Huroki plans a full-scale military assault on the Channing property while Patria prepares her men for battle.

Episode 13: The Wings of Death. Donald leads a group of men to rescue one of Patria's friends from Huroki's camp, while Patria gets into trouble with a government agent who is concerned about her private army.

Episode 14: The Border Peril. Patria's army struggles to hold back Huroki's attack, provoked by Patria's murder of Huroki's second-in-command.

Episode 15: For the Flag. After being forced back, Baron Huroki plans a night attack. Patria's men can barely hold out until morning, when they attack the combined Japanese and Mexican forces with a tank.
Citation: Lindsay, Martin S. Patria. Website: WillBradley.com. Accessed 05 Dec 2023, <https://willbradley.com/work/film/patria/>. Bibliography. References.