John Charles, the Villain of the Movies
H. Films and Filmwork by Will H. Bradley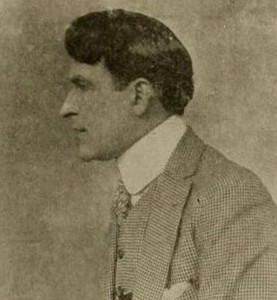 John Charles (1885-1921) was an American character actor of the stage and screen, who specialized in villainous roles.
John Charles was born about 1885 to TJ Charles and Susan Patterson. At a young age he began to act for stock companies, eventually making his way into motion pictures. On stage, Charles was a member of William Brady's traveling stock company. He appeared with Louis Mann as Joseph Abrams in The Man Who Stood Still, (1908) with Helen Ware's company, and as T. Blackton in Fannie Hurst's Back Pay.
John Charles, in a subtle role, is a thoroughly discerning actor.
On film, Charles appeared in many shorts for William Selig and William Fox from 1912-1921. In 1915 he was a member of the Chicago stock company for Selig Polyscope, appearing in 'Red Seal' films with Harry Mestayer and Grace Darmond. Charles is known for Sogarth Aroon (1912), Ben Austin in Your Girl and Mine: A Woman Suffrage Play (1914, Selig Polyscope, with Helen Ware), A Texas Steer (1914, Selig Polyscope, with Tyrone Power), The Leaving of Lawrence (1915), Dr Pool in The Millionaire Baby (1915, Selig), The Girl in the Gingham Gown (1912), Gaspard in Bitter Fruit (1920, Dramafilms) and Duc de Chavannes in Buried Treasure (1921, Cosmopolitan).
Artist Will H. Bradley cast Charles as the evil, drunken slave-trader Gaspard in his film Bitter Fruit (1920). Shot in the Florida Everglades, the story told of pirates kidnapping two American women and selling them to the lecherous Gaspard. Charles' character plots to kill his own nephew, threatens to brand a captive slave and many more dastardly deeds. In the end, however, he meets his fate with much melodramatic gusto.
Charles died in Manhattan while appearing in Back Pay at age 36 on 7 Nov 1921. The production closed that month. His published obituary stated he died from pneumonia at his home in Whitestone, Long Island (where at the time, several film studios were located). But his death certificate tells a different tale. He was living in Murray Hill near his theatre, became ill, and was admitted to Bellevue Hospital (less than a mile away) on 28 Oct. He died a week later from cerebral syphilis. Services were held at Frank Campbell's funeral home "to the stars" in NYC.

The following article is taken from the July, 1915 issue of The Movie Magazine.
The Villain of the Movies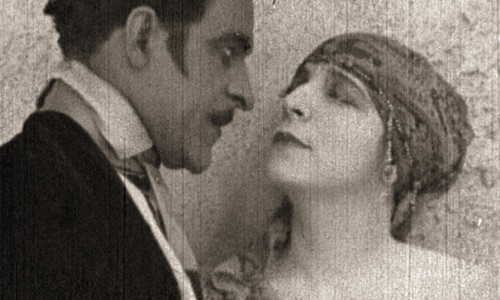 A man cannot smile and yet be a villain — not in Movieland! On the animated screen a fiendish smile may be employed now and then to poke in the essential realism, but for the most part, the villain must be a stern and foreboding individual. He must be as mild a mannered man as ever scuttled ship or cut a throat!
Mr. John Charles, who plays the "heavies" in many of the Red Seal Plays produced by the Selig Polyscope Company, in Movieland, is a villain of the most approved type — outside of Movieland he is not a bit villainous — but that is another story again.
Starting to play parts in theatrical stock companies at the age of 16 years, Mr. Charles has enacted a range of roles from "Simon Legree" to "Hamlet," all more or less villains in their own way.
"In the good old days of the ten, twent, and thirt," said Mr. Charles the other day, "the villain who always smoked a cigarette carried a riding whip and wore putees, was frequently hissed off the stage. His was indeed a thankless part. In the movies, details are somewhat different. While the villain wins the enmity of the movie gallery gods' right off the bat, yet he cannot be hissed off the screen and, consequently, no endeavors are made toward this end. Also, the hard-working actor who portrays the villain in the movies is not present in the flesh and is not obliged to dodge sundry missiles which frequently was the experience of the "heavy" who came forth in 'Thorns and Orange Blossoms,' 'East Lynn,' 'Only a Factory Girl,' and such like plays of halcyon days.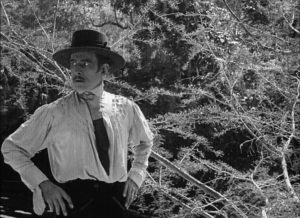 "I find that the actor who well assumes a 'heavy' role in motion picture productions is complimented for his work rather than condemned for the part he is compelled to play. I have overheard many compliments extended by audiences in motion picture theatres to movie actors who play 'heavy' parts convincingly. Just a few years ago such compliments would have sounded very strangely. I construe the new attitude to mean that sentiments are changing and that audiences are appreciating the work of each and everyone who assists in making the motion picture play the more realistic and entertaining.
"It is not easy to specialize in 'heavy' roles in the movies. You must know that to the 'heavy' man or woman there generally befalls the most difficult and dangerous sort of 'stunts.' If there is a fall from a cliff, the villain most frequently draws that assignment. If a terrific hand to hand combat is called for in the action, it is the unfortunate 'villain' who is generally rendered hors' de combat.
"In the Selig Red Seal Play, 'The Millionaire Baby,' I was called upon to assume the role of a scheming and unscrupulous physician. In the end I was obliged to fall from a balcony and was supposed to break by neck. I nearly did break a leg. The director ordered me to make the fall as realistic as possible. To hear in movieland is but to obey. I toppled over backward and fell about twenty-five feet with my leg doubled under me. There I was obliged to lie until the all-powerful camera had caught me."
There is something doing all the time for the 'villain' in motion pictures and his life is surely not an easy one.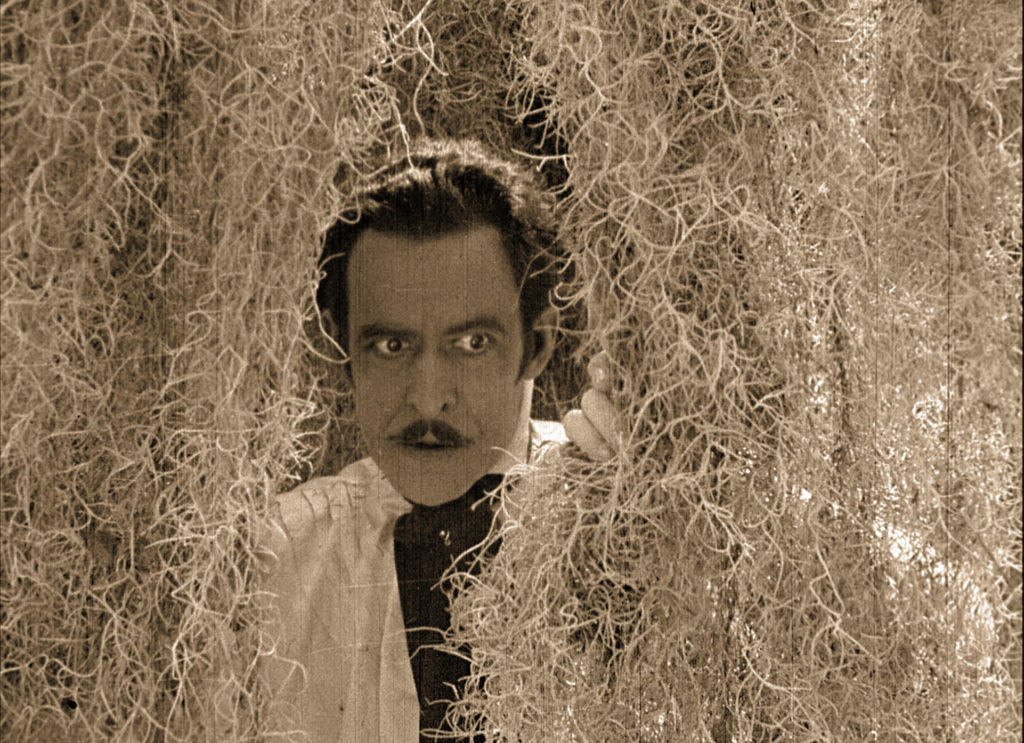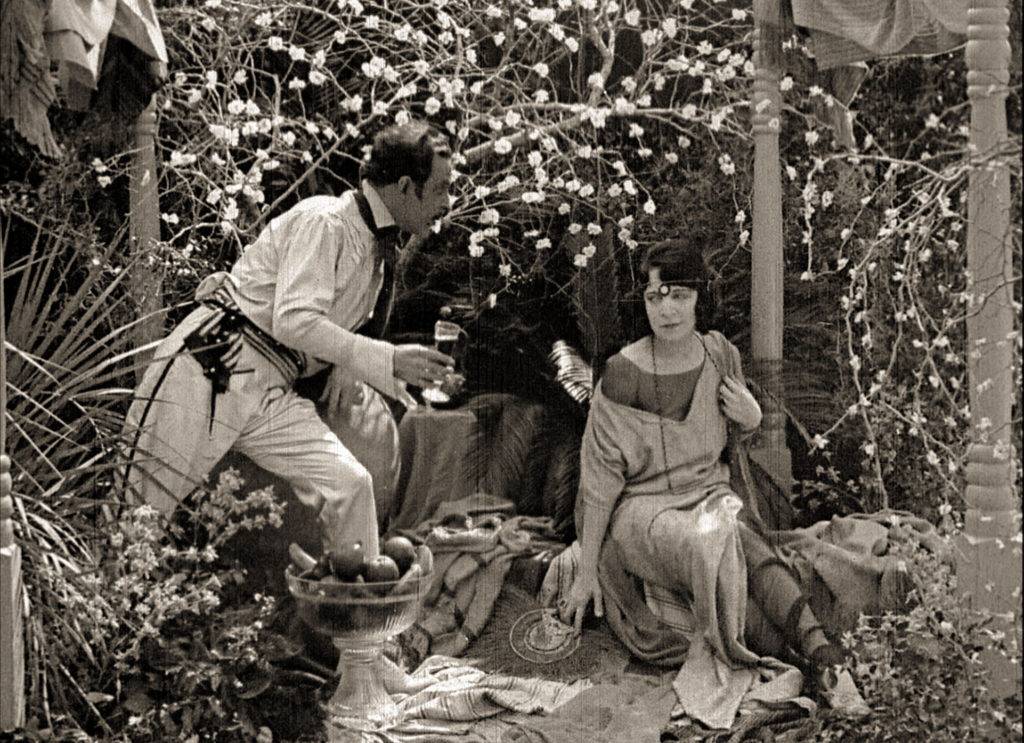 Notes:
"at age 36…" Birth and death dates are taken from Charles' obituary in the New York Clipper, New York, New York, Death Index, 1862-1948, database, Ancestry.com; "New York, New York City Municipal Deaths, 1795-1949," database, FamilySearch.org, FHL microfilm 2,027,763; and from New York Department of Health death certificate #25460.
"ten, twent, and thirt…" Popular priced American theatres that offered cheap, melodramatic entertainment from about 1890-1910.
"putees" Cloth wraps covering the lower part of the leg from the ankle to the knee. Usually worn with riding pants.
Ref: "The villain of the movies," The Movie Magazine, vol 1, no 5 (Jul 1915) pp 18-19; "Deaths," New York Clipper, 9 Nov 1921, pg 30; The Dramatic Index for 1921, Boston: The F.W. Faxon Company, 1922, pg 42; Kerry Segrave, Extras of Early Hollywood: A History of the Crowd, 1913-1945, McFarland, 2013.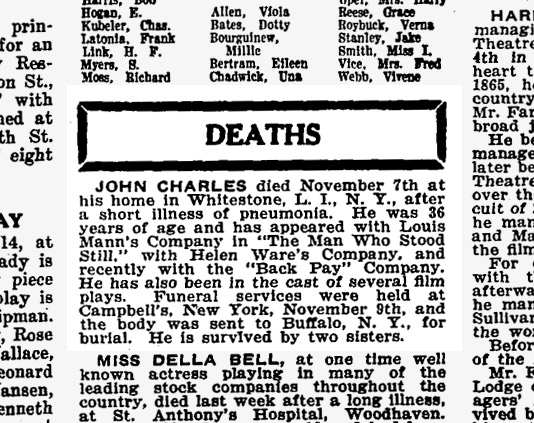 Citation: Lindsay, Martin S. John Charles, the Villain of the Movies. Website: WillBradley.com. Accessed 02 Oct 2023, <https://willbradley.com/work/film/john-charles/>. Bibliography. References.