Moongold
"One red apple and contentment are better than pearls wet with tears…"
H. Films and Filmwork by Will H. Bradley
Writer, director, producer, Moongold: a pierrot pantomime, 1921 silent film (lost).
"The things that attract attention in pictures — whether they be oil paintings, pen and ink sketches or photographs — are lights, lines and symmetry. The eye catches first the places where light is strongest. The most conspicuous advertisement, for instance, is a white word or symbol in a black background. The eye turns to colors only when it has tired of the light."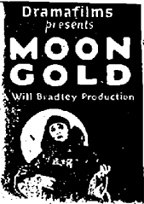 The now common act of performing with a few simple props on a blackened stage — black box theatre — was a true novelty for film audiences in 1921. It was also very affordable for Will H. Bradley, who wrote, directed and produced the three-act Pierrot fantasy through his company Dramafilms.
The New York Evening Telegram introduced Bradley, "The director of Moongold is Will Bradley, widely known as an art editor, and he attributes the success of this — his fifth picture — to the application of the rules he has used for years in illustrating magazine stories, keeping in sight the fact that a motion picture must express the action a magazine illustration only suggests."
Actress Lois Bartlett was just ten years old when she appeared Moongold, and reported as the "youngest leading lady on the screen." Like most of Will Bradley's actors, Bartlett came from Broadway, having just appeared as Peggy Blake in Wake Up Jonathan! and with John Barrymore in King Richard III. Some critics though, reported her character as "petulant" and "childish." Bradley most probably meant to coax that performance out of her, as Pierrette was supposed to rebuff Pierrot's offerings, and the story was from the perspective of the child. To get the most spontaneous, naturalistic performance from his young Pierrette, Will Bradley would not let her rehearse. He told her the setup just before filming each scene.
The film also starred H. Dudley Hawley in a dual role of Pierrot and the Rich Man, Syn de Conde as the Harlequin, Forrest Robinson as the Judge, George Fawcett as the Mean Judge, Guy Nichols as the Sandman, and Clifford Walker as the Watchman.
"We are not at liberty to divulge any more about this novelty, save to say that the entire picture, which will be in six reels when assembled, is photographed before black back drops and the characters are made up in white face. Several noted pantomists are included in the cast."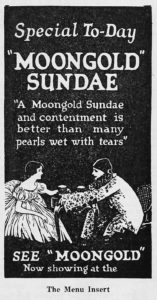 Will H. Bradley's film was shot under the working title, Lune d'Amour, and edited early in 1921. As with his previous film, Bitter Fruit, Bradley released little details to the media while it was in production. Moongold premiered successfully in May, 1921 at the Criterion Theater in Times Square, and ran for weeks throughout the country.
The film was released by the the F.B. Warren company, which created ads and 'exploits' for its promotion. One was a cross-promotion for theaters and their local soda fountains — menu insert art advertising the 'Moongold Sundae.'
Bradley's short was booked with longer 5- and 6-reel films on theatre programs.
It was written that Moongold held the record in New York City — at five weeks — for longest first-run short subject film.
"Its significance is that it employs the idea of expressional settings, not cubistically as does 'The Cabinet of Dr Caligari,' but selectively. Normal chairs, beds, doors, windows and the like are used, but only as they enter into the action. The real background of every scene is jet black. Against it stand the objects essential to the story, and no others. The picture, then, is one of sharp contrasts, of bright high-lights surrounded by darkness, with shadings only on the faces and figures of the player… Mr Bradley has had the imagination and skill to make his pictures pleasing to the eye and dramatically interesting…"
Ref: Tidden, Fritz. "Keeping in Personal Touch." Moving Picture World, 12 Feb 1921, pp 807, 812. New York Times, 9 May 1921; New York Tribune, 15 May 1921; "Too Much Light Worse than None in Film, Declares Artist." The Evening Telegram (New York, NY), 31 May 1921; Omaha World Herald (Omaha, NE), 24 Jul 1921, p 34; Marsh, W. Ward. "Nothing new under the sun? 'Moongold!'" Plain Dealer (Cleveland, OH), 6 Aug 1921, p 6; Great Falls Tribune, 9 Oct 1921; Bambace, p xxi; Koch, pp 161-162.
H 4

Moongold: a pierrot pantomime, three-reel short (a.k.a. Lune d'amour, fantasy, Dramafilm Productions, May 1921). Written and directed by Will H. Bradley. Cinematography by Harry W. Smith. Produced by Dramafilm Productions. Released by F.B. Warren Corporation (copyrighted 25 Aug 1921 F.B. Warren Company). Distributed by the American Releasing Corporation (1923).

Cast: Pierrette, Lois Bartlett; Pierrot / The Rich Man: H. Dudley Hawley; Harlequin: Syn de Conde; The Judge: Forrest Robinson; The Mean Judge: George Fawcett; The Sandman: Guy Nichols; The Watchman: Clifford Walker.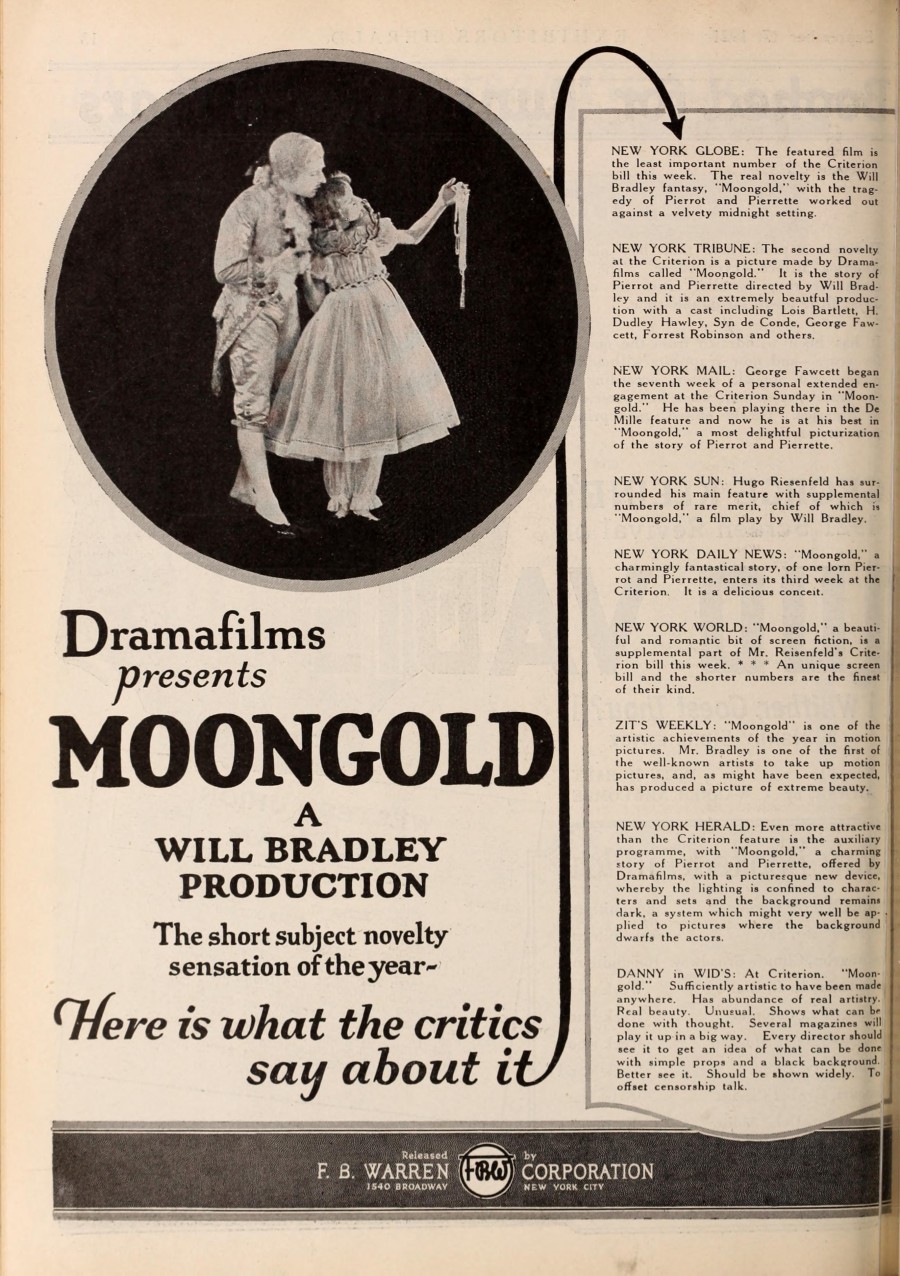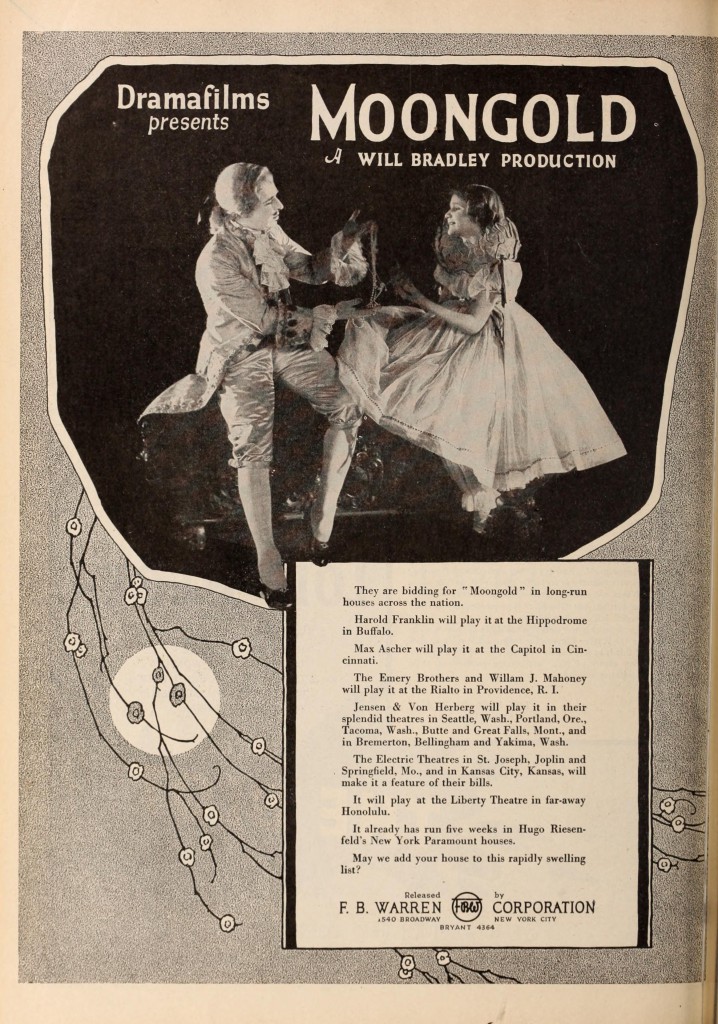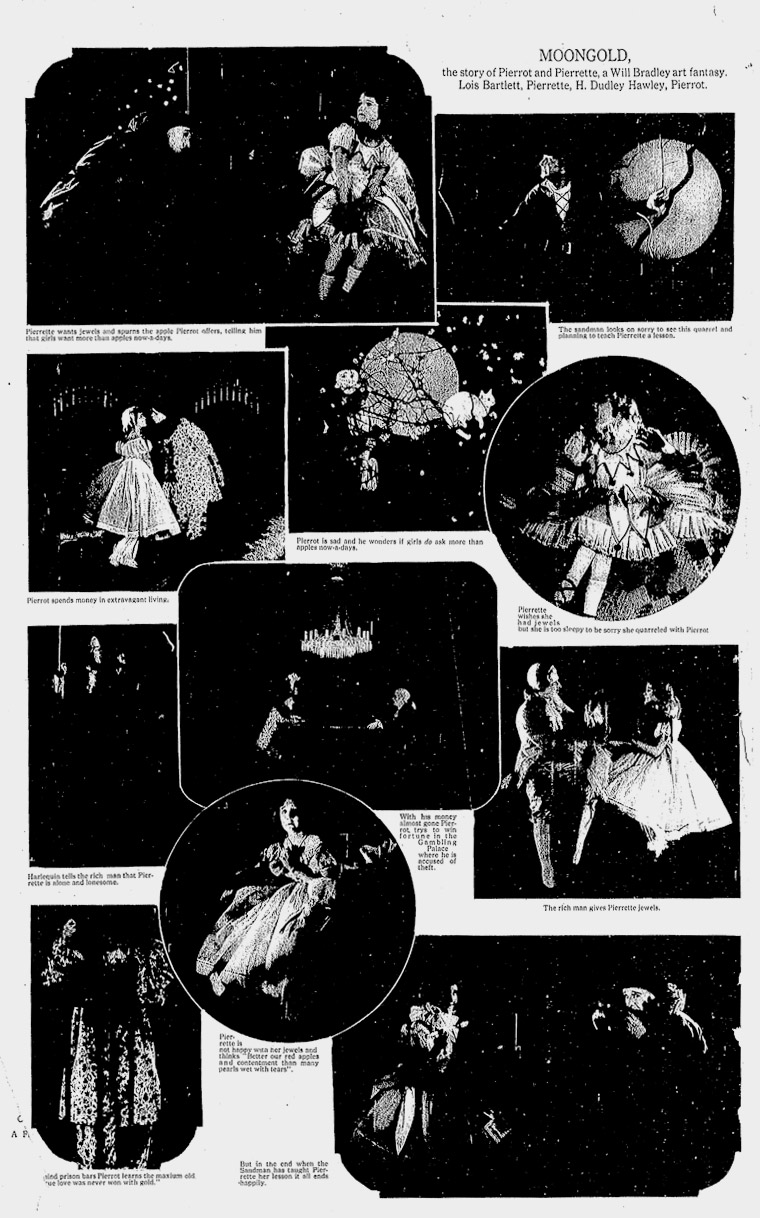 Citation: Lindsay, Martin S. Moongold. Website: WillBradley.com. Accessed 05 Dec 2023, <https://willbradley.com/work/film/moongold/>. Bibliography. References.