Beatrice Fairfax
H. Films and Filmwork by Will H. Bradley
Assistant director and supervising art director, Beatrice Fairfax, 1916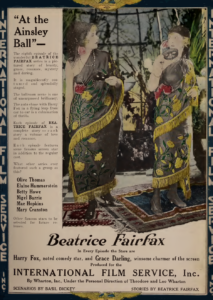 In 1914 Theodore and Leopold Wharton established their own production company, The Whartons, Incorporated in Ithaca, New York. They were the first directors to establish their own studios as independent producers. William Randolph Hearst's first investments in motion pictures were for their adventure serials The Perils of Pauline (1914) and The Exploits of Elaine (1915). Beatrice Fairfax was produced in Ithaca, New York during 1915-1916.
In Oct 1916, Bradley's interest in film (and as it has been written, the success of the two previous serials) spurred Hearst to ask Bradley to art direct his future films. By then, the first ten episodes of Beatrice Fairfax had been filmed.
Will H. Bradley served as assistant director and supervising art director on Beatrice Fairfax. And later, most likely due to the lackluster advertising campaign for Beatrice Fairfax, he assisted in the promotional advertising for Heart's films.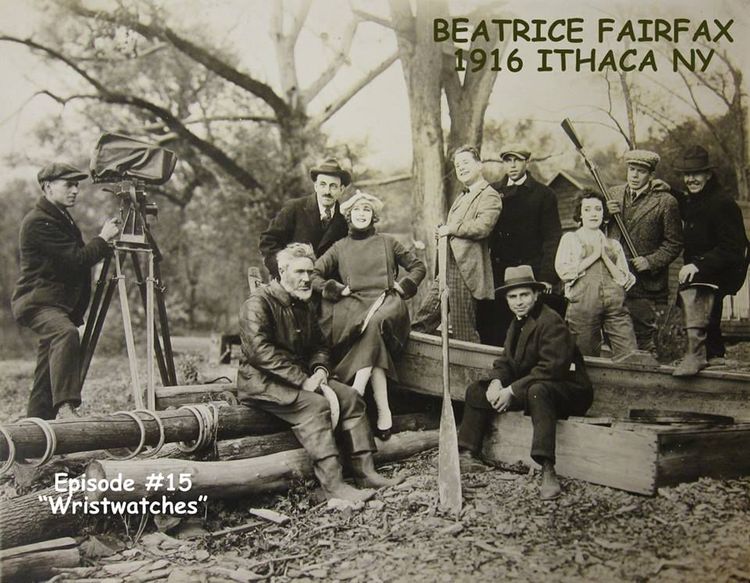 "Directed by the Wharton brothers, who filmed The Exploits of Elaine, featuring Grace Darling as the 'advice to the lovelorn' columnist turned crimefighter and Harry Fox as her comical and clever assistant Jimmy. Beatrice and her friend and not-so-secret admirer Jimmy Barton investigate calls for help (which usually arrive by handwritten letter to Beatrice's New York Evening Journal office) and escape exotic perils and dangers. Episodes include exciting and fun stories of baby-napping, blackmail, jewel thievery, disguise, counterfeiting, and the long-unseen episode featuring entrancing cult starlet Olive Thomas and the real New York Yankees and Giants playing a game in the Polo Grounds. Olive is onscreen for almost her entire episode."
Fourteen of 15 episodes survive in the Library of Congress film archive, AFI/Marion Davies film collection. Originally to be released nationwide on the 7th of August, the New York premiere was postponed until 28 Aug 1916, due to the "infantile paralysis scare," an outbreak of polio in New York City. The 1916 epidemic caused widespread panic and thousands fled the city to nearby mountain resorts. Movie theatres were closed, meetings were canceled, and public gatherings discouraged. Children were warned not to drink from water fountains and told to avoid amusement parks, swimming pools, and beaches.
H1

Beatrice Fairfax,, 15-episode action serial (Wharton Incorporated, released 7 Aug 1916). Directed and produced by Theodore and Leopold Wharton. Scenarios written by Basil Dickey. Cinematography by Levi Bacon (episodes 3, 5, 10 and 15), John K. Holbrook, Ray June, William Plyes, and Lew Tree. Art direction by E. Douglas Bingham and Archelaus D. Chadwick. Assistant directors James Gordon, Robin H. Townley, Will H. Bradley (as William Bradley). Distributed by International Film Service / Pathé Exchange (William Randolph Hearst's newsreel distribution companies).

Cast: Grace Darling as Beatrice Fairfax, Harry Fox, Allan Murnane, Nigel Barrie, F.W. Stewart, M.W. Rale, Olive Thomas, James Gordon, Bessie Emerick Wharton (who was married to director Leopold Wharton and sometimes credited as 'Bessie Wharton' or 'Mrs Leopold Wharton'), Little John Sullivan, Edgar L. Davenport, Jeannie Parker, Robin H. Townley, Chief Buck, Warner Oland, Bruce McRae, Dick Bennard, Gus Reulein, Leonard Reulein, Elaine Hammerstein, Wellington A. Playter, Mae Hopkins, Mary Cranston, Betty Howe, Evelyn Ferris, Elsie Baker, Harry Carr, Buck Connors, Frank Honda, Harry Robinson, Wesley Ruggles, Theodore Tweston, Frances White.

Episode 1: The Missing Watchman, 1916.

Episode 2: The Adventure of the Jealous Wife, 14 Aug 1916.

Episode 3: Billie's Romance, 21 Aug 1916.

Episode 4: The Stone God, 28 Aug 1916.

Episode 5: Mimosa San, 04 Sep 1916.

Episode 6: The Forbidden Room, 11 Sep 1916.

Episode 7: A Name for the Baby, 18 Sep 1916.

Episode 8: At the Ainsley Ball, 25 Sep 1916.

Episode 9: Outside the Law, 09 Oct 1916.

Episode 10: Play Ball, 16 Oct 1916.

Episode 11: The Wages of Sin, 23 Oct 1916.

Episode 12: Curiosity, 23 Oct 1916.

Episode 13: The Ringer, 30 Oct 1916.

Episode 14: The Hidden Menace, 13 Nov 1916.

Episode 15: Wrist Watches, 13 Nov 1916.
Ref: 'Beatrice Fairfax ready for public on August 28,' Motion Picture News, vol 14 no 10 (9 Sep 1916), pg 1564; Daniel Blum, Pictorial History of the Silent Screen, 1953; Kalton C. Lahue, Continued next week: a history of the moving picture serial, 1964, pp 168, 283; Raymond William Stedman, The serials: suspense and drama by installment, 1971, pg 38; Bambace, pg xxi; website – imdb.com; website – ithacamademovies.com; website – serialsquadron.com; website – silentera.com.
Citation: Lindsay, Martin S. Beatrice Fairfax. Website: WillBradley.com. Accessed 02 Oct 2023, <https://willbradley.com/work/film/beatrice-fairfax/>. Bibliography. References.