Chap-Book Cuts
G. Fonts Designed by Will H. Bradley
G 16. Bradley, Will H. Chap-Book Cuts, typeface design, 1904.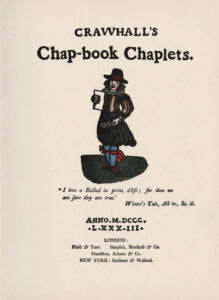 Will H. Bradley designed this set of embellishments from a collection of English and Scottish folk tales and ballads illustrated in chapbook style (and hand-colored) by Joseph Crawhall.
Chapbooks were an inexpensive form of popular literature in early modern Europe, and Bradley was heavily influenced by the chapbook styles of Thomas Bewick and Joseph Crawhall as models for his reinterpretations. Both Thomas Bewick (1753-1828) and Joseph Crawhall II (1821-1896) came from Newcastle upon Tyne, a city famous for its wood engravers.
These cuts were meant to be used with Bradley's font Bewick Roman, also issued by ATF.
Refs: Crawhall, Joseph, Crawhall's Chap-book Chaplets, London, England: Field & Tuer, 1883; American Type Foundry, American Line Type Book, Borders, Ornaments: Price List Printing Material and Machinery, ATF, 1906.
Citation: Lindsay, Martin S. Chap-Book Cuts. Website: WillBradley.com. Accessed 02 Oct 2023, <https://willbradley.com/work/typography/chap-book-cuts/>. Bibliography. References.