La Jolla, CA
Residences, 1957-1960
After the death of her husband in October 1957, Fern Bradley Dufner and her father moved back to California. Will Bradley's friend Carman Bliss wrote that Bradley 'wanted to return to a warmer climate but not to the smog of the Los Angeles area' that he'd experienced in Pasadena.
So they settled in the Clairmar garden apartments, near the sunny shores of La Jolla, California just north of San Diego. The modernist Clairmar complex (now called Park La Jolla) was designed in 1950 by Harold Abrams, architect of the innovative planned community of Clairmont. Abrams, Benson Eschenbach and Richard George Wheeler designed 20 floorplans for the first development of 500 homes.
Bradley was now 89 and his health was failing. By 1960, he was in a rest home in La Mesa, California.
Park La Jolla Apartments, La Jolla, California, 2002. Photo, Martin Lindsay.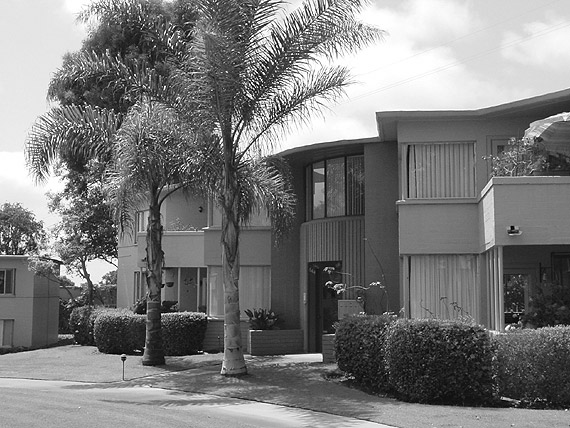 Bradley residence, lower left apartment in this unit. 644 Carla Way, La Jolla, California, 2002, Photo, Martin Lindsay.
Citation: Lindsay, Martin S. La Jolla, CA. Website: WillBradley.com. Accessed 18 Jan 2020, <https://willbradley.com/biography/residences/la-jolla-ca/>. Bibliography. References.